March 13, 2015
Baked fresh, tantalisingly tasty and a little bit prestigious…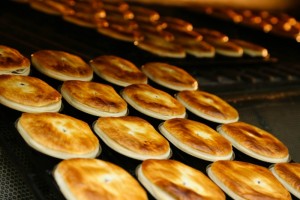 Our pie makers spring out of bed each day motivated by the knowledge our pies are not only the best in Horsham, but further afield, too. We have people travelling from around the state through Horsham to try our award-winning pies.
It could be the variety of flavours we offer, the delicious ingredients we choose, the passion we pour into them – but one thing's for sure, it's definitely the fact that they're baked fresh daily! We have breakfast pies, traditional meat, vegetarian, chicken and even dessert pies – who doesn't love a fresh apple pie? In fact, take your pick from more than 30 flavour options. Two of our favourites, the vegetarian and chunky mince, won gold in the Great Aussie Pie Competition.
Over the years we've remained true to our specialty of crafting pastry-encased goodies for young, old and everyone in between to enjoy, and it has served us well in return, with loyal pie fans in Horsham and across the state.
We live, breath and love pies. On a Friday evening when most people are enjoying cheese and wine, we're enjoying a "pie platter" or two instead. When most people are tucked up in bed, our chief pie-maker Mick and his dedicated team of pastry chefs can be found preparing pies for the day in our cafe's kitchen. Our pies can be enjoyed in our cafe, as takeaway or at a corporate catered event. If you have a special request, don't hesitate to contact us.